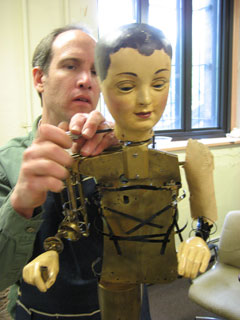 While I was researching The Invention of Hugo Cabret, I discovered that the Franklin Institute in Philadelphia owned a very old automaton (pronounced aw-TOM-ah-tahn). This is not one of the machines that Georges Melies owned (see below), but it was very much LIKE the ones he had. I went to Philadelphia to visit the machine, and I found out that it had a pretty amazing history that was very similar to the story I had made up for the automaton in The Invention of Hugo Cabret. Unfortunately, the machine was broken when I first encountered it, and it was not on display. I had to go down to the storage area in the basement to see it. But luckily, my friend Andy Baron, a mechanical genius, said he could fix the machine, and he did! .
The photo to the right shows Andy Baron fixing the automaton in 2007. Click here to read a fascinating essay Andy wrote about his experience working on the automaton.
And click here to visit the Franklin Institute's web page about the automaton.
Click here to see a website with other automata and lots of amazing mechanical wonders.
And click here to visit a website where you can make your own simple automata out of paper.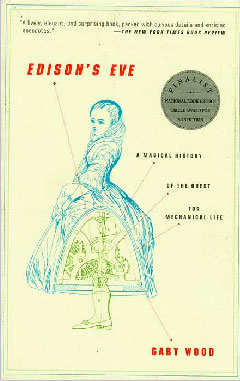 One of my main inspirations for The Invention of Hugo Cabret was a book called Edison's Eve: A Magical Quest for Mechanical Life by an author named Gaby Wood.
This book is about the history of automata (it's pronounced aw-TOM-ah-tah). Automata are mechanical figures which are made out of very complicated clockworks and can do amazing things like sing or dance or swing on a trapeze or write poems or even (supposedly) play chess. Gaby Wood had an entire chapter about Georges Méliès in her book because Méliès owned a collection of automata. The mechanical figures had been built years earlier by a magician and clockmaker named Jean-Robert Houdin (the magician who Harry Houdini named himself after). Méliès loved these automata, but he lost his money and couldn't take care of them any more. So he donated them to a museum, but unfortunately the museum didn't take care of them and they were destroyed and thrown away. I imagined a boy finding one of those broken machines in the garbage and at that moment Hugo Cabret was born.
If you'd like to buy a copy of Edison's Eve, please go to Order Books.