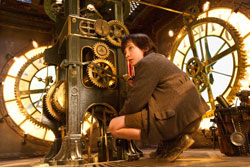 Martin Scorsese's beautiful, Oscar winning adaptation of my book The Invention of Hugo Cabret is out now on DVD. Click here to order a copy of Hugo for yourself or a friend!
The movie received rave reviews. Here are some of them...
Check out this amazing behind the scenes footage of the last shot in the movie. It's called a "tracking shot" which means there is no editing during the scene, it's filmed all at once. See if you can spot me... hint: I'm playing "Eager Student!"
Will Houstoun, along with Paul Kieve, was one of the magic consultants on the movie. Click here to see a short video interview with Will about working on the film.
I wrote a book about the making of the movie called The Hugo Movie Companion where you can learn all about how the movie was made and all the people who worked on the film.
Watch the amazing video to see how some of the special effects shots were done for the movie. And be sure to look out for me (I have a cameo in the movie) at around 7:26. I'm the "Eager Student" in glasses right behind Sir Ben Kingsley as Georges Melies.
Here is a behind the scenes look at making the movie, featuring an interview with Martin Scorsese.
Here is the trailer.